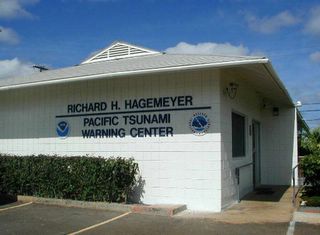 Not sure a picture of the warning center is the main priority when you are looking for news of a possible Tsunami....or is it just me?

Heard on the news a few minutes ago that there had been a new earthquake off the coast of Indonesia. BBC World Service went into continuous coverage. It seems ironic that BBC 1 carried an excellent TV documentary on the Christmas Tsunami just last night (Easter Sunday). They interviewed a scientist at the
Pacific Tsunami Warning Center
in Ewa Beach Hawaii. They pointed out that the Indian Ocean was not their area, but that once they realised the scale of the Tsunami they had done their best. Not good enough - according a newspaper in Hawaii (the Advertiser) that reported on Sunday March 13th that the agency which operates the Pacific Tsunami Warning Center is being sued by Indian Ocean tsunami survivors and relatives of victims. The suit says the center and other defendants did not do enough to protect people from the December tsunami, which killed as many as 300,000 people.
The lawsuit does not seek damages, but instead asks the court to preserve evidence for the plaintiffs so they can decide whether to pursue damages. NOAA's Pacific Tsunami Warning Center monitors seismic and ocean conditions in the Pacific Basin and issues warnings to member nations. The Ewa Beach center has been criticized for not being more aggressive about warning southern Asian nations after they were alerted to 9.0-magnitude earthquake off Indonesia. NOAA officials refused to comment.
All this may be, but I think they need to do something about their website. There was another earthquake today and I turned to them for news (at least a copy of the bulletin they had issued to others?) Nope...just a picture of the monitoring post. Other parts of NOAA issue warnings of geomagentic storms on the web.....but not these NOAA Tsunami guys.
It seems the media did respond this time, especially in Sri Lanka and Thailand. The actual situation on the Indonesian islands close to the epicenter is unknown as I post this. The website you should really check for news is the Tsunami blog (both during and after an event) at http://tsunamihelp.blogspot.com/