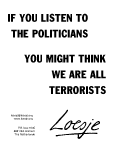 Loesje
, the Arnhem-based political organisation that has hundreds of poster texts to its credit, is leaving Holland and moving to Berlin by 2005. The website says they need a world city base to expand their international activities.
In the Netherlands, Loesje is well known for making books and calenders with witty remarks on current (political) affairs. In my opinion, the slogans work best in Dutch - the English versions are someone strained, being translated instead of adapted to an English speaking market. They would have a hard time selling the slogans in the UK, for instance. Loesje was founded in 1983 by a group of teachers and students from the Arnhem art academy. They wanted to inject some new life into a rather sleepy political climate at the time and expressed this by creating controversial witty remarks/slogans on posters.
Loesje is a Dutch girls name, chosen from hundreds of suggestions. In fact it has no meaning, so open for suggestions from others. Today Loesje is actually a foundation with around 1000 members in the Netherlands and a growing fanclub abroad. Around 10% of the members are really active - putting up posters in various parts of the country, plus another 11 people who work part-time at the current HQ in Arnhem. But not for much longer.